Central Command
There are two commands central to Christianity as stated by Jesus in Matthew 22:36-40, …"'You must love the Lord your God with all your heart, all your soul, and all your mind.' This is the first and greatest commandment. A second is equally important: 'Love your neighbor as yourself.' The entire law and all the demands of the prophets are based on these two commandments."
---
Loving God is an action that requires effort from every facet of our being. The ways in which God commands us to love him give us a pretty straight forward outline of where to focus on caring for ourselves to make sure we're up for the task.
Heart
Soul
Strength
Mind
Body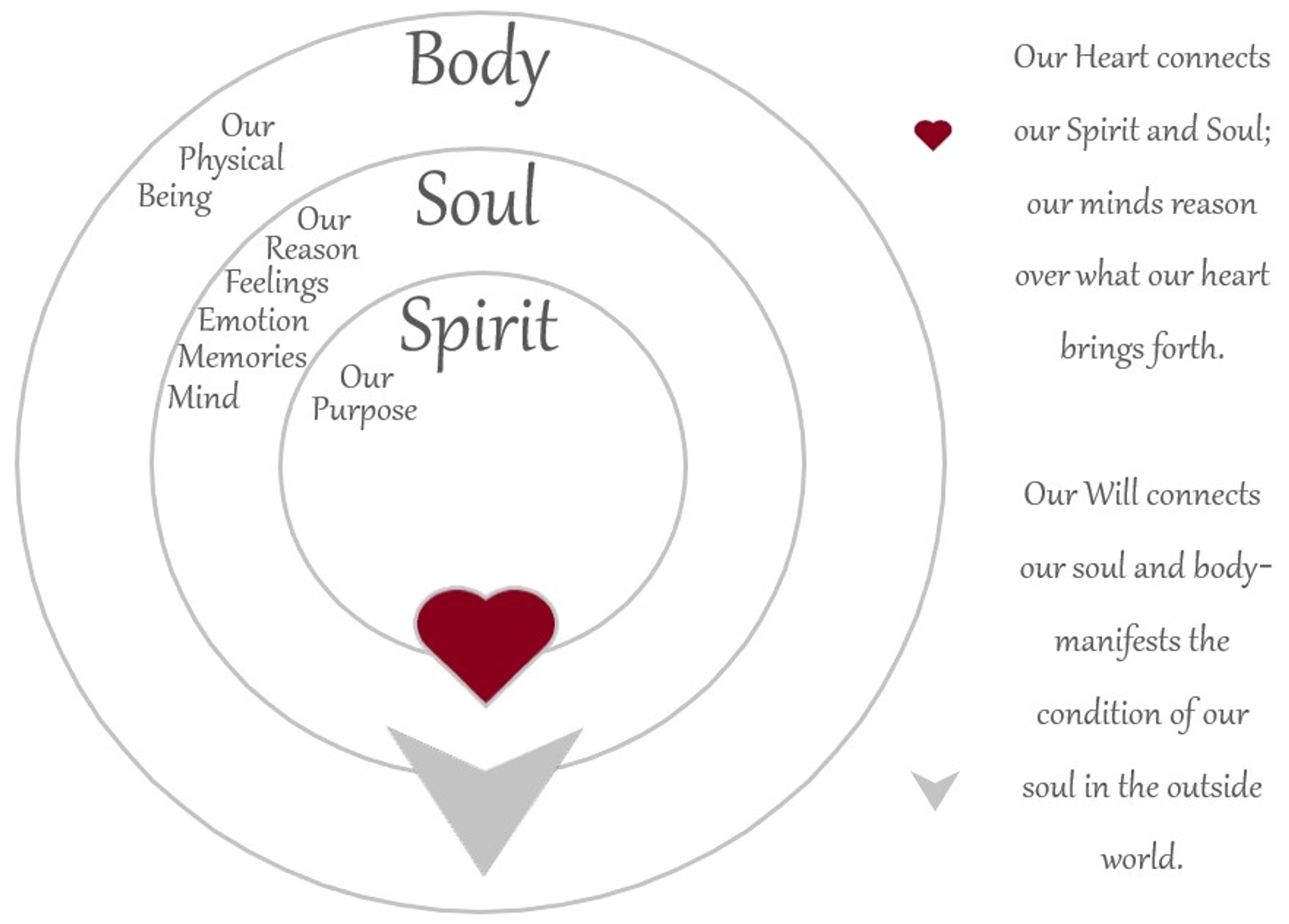 Good Health
Good health is about being able to carry out our central command as Christians, and we need more than just our bodies to do it.
More sobering to consider is that when our physical bodies die, our souls will continue to exist—eternally.
With this tidbit in mind, it's clear that focusing on our bodies alone, in an effort to be healthy, misses the mark entirely.
Getting to It
You're likely here, going through this course, because you're looking to make improvements to your health.
The goal of this course is to introduce you to the basic outline of Blessed Be Today's health coaching strategy. The outline includes four cornerstones associated with good health. Each theme has both a physical and spiritual aspect and so info is presented from both perspectives.
As you go through each lesson, keep these things in mind:
Cornerstones
Each is organized in the following manner:
Broad Overview
Physical Concept(s)
Spiritual Concept(s)
Concept Parallels
Synergy
The way I see it, synergy, is secular culture's word for faith. The sum of the whole is greater than the sum of its parts.
God + Our Faith > Us, alone
Hebrews 11:2, "Faith is… the evidence of things we cannot see."
We will never know or understand every one of the innumerable details that make us human. Science will never be able to say why our bodies and minds work the way they do. The good news is that understanding is irrelevant.
Proverbs 3:5, Trust in the LORD with all your heart; do not depend on your own understanding.
So, where do we go from there? Let go and let God! Understanding isn't necessary, but action is required.
James 2:19-20, You say you have faith, for you believe that there is one God. Good for you! Even the demons believe this, and they tremble in terror. How foolish! Can't you see that faith without good deeds is useless?
It's our philosophy that the good deeds James mentions above aren't just good deeds toward others, but good deeds toward ourselves as well. The whole put-on-your-oxygen-mask-on-first type of deal—we're no good to others if we don't even know how to care for ourselves.
2 Corinthians 5:7, For we live by believing and not by seeing.
When we obey God, and have faith in his blessings, big things will happen—much more so than if we try to motor through life on our own.
Deuteronomy 28:1-6, "If you fully obey the LORD your God and carefully keep all his commands that I am giving you today, the LORD your God will set you high above all the nations of the world. You will experience all these blessings if you obey the LORD your God: your towns and your fields will be blessed. Your children and your crops will be blessed. The offspring of your herds and flocks will be blessed. Your fruit baskets and breadboards will be blessed. Wherever you go and whatever you do, you will be blessed."
Idolatry
I feel it necessary to mention idolatry because it's such a slippery slope. It's so easy to slip into a pattern of worshipping the number on a scale, the shape in the mirror, minutes spent on a treadmill, adherence to a particular diet, or any other goal we're working really hard to achieve—maybe something we've been working toward for years.
It's great to have goals, don't get me wrong!
Please, just make sure your goals don't turn into gods.
Faith is powerful! But the only place for it is in God. Be careful where you put your faith.
Inspiration
Proverbs 4:20-22
My child, pay attention to what I say. Listen carefully to my words. Don't lose sight of them. Let them penetrate deep into your heart, for they bring life to those who find them, and healing to their whole body.
Proverbs 18:14
The human spirit can endure a sick body, but who can bear a crushed spirit?
Proverbs 3:7 – 8
Don't be impressed with your own wisdom. Instead, fear the LORD and turn away from evil. Then you will have healing for your body and strength for your bones.
Romans 12:1
And so, dear brothers and sisters, I plead with you to give your bodies to God because of all he has done for you. Let them be a living and holy sacrifice—the kind he will find acceptable. This is truly the way to worship him.